Baseboard Heating
Question Topic
Baseboard Heating Baseboard Heater Size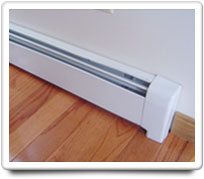 Home-Wizard™ calculates your ideal home care program to avoid problems with your Baseboard Heating, but sometimes trouble can still occur. Here are answers to questions about baseboard heating baseboard heater size.

QUESTION FROM William
We have a new basement in our cottage. We are not there in the winter months. How many base board heaters and watts size, will we need to keep the temperature about 40 F. Room sizes are 360 sq. ft, 80 sq. ft, 150 sq. ft X2, 320 sq. ft. All exterior walls will be insulated with R-20 ( 2x6)?
---

ANSWER FROM HOME-WIZARD
Dear William:

Regarding your question on how to properly size a heating system for your cottage, here is a webpage that describes the issues with sizing a heating system:
http://www.energysavers.gov/your_home/space_heating_cooling/index.cfm/mytopic=12340

As you will read, properly sizing a heating system will depend on factors such as:

o The local climate
o Size, shape, and orientation of the house
o Insulation levels
o Window area, location, and type
o Air infiltration rates
o The number and ages of occupants
o Occupant comfort preferences
o The types and efficiencies of lights and major home appliances (which give off heat).

And as the webpage discusses, it is best to have a local contractor (who is familiar with your specific region of the country and who can see your cottage's specific configuration) run the correct sizing calculations (not just us using estimates using "rules of thumb").

Hope this is helpful.
Home-Wizard.com

QUESTION FROM Tammy Mossuto
I have a question about switching ou my olo cast iron radiators from the 50's with the new hydrolic baseboards. I need to know if my system can handle it. The boiler I am currently using is a lennox as pictured on this site http://www.lennox.com/products/boilers/GWB8-E/S/

The baseboard I want to use is on this site... http://www.alpinehomeair.com/viewcategory.cfm?categoryID=255 Any of the hydronic baseboards will do as long as the size is right. money is extrem;y tight so we are trying to make do with the boiler we already have. Thank you, for reviewing my question.
---

ANSWER FROM HOME-WIZARD
Dear Tammy:

In general, I would think that your new baseboard radiators would be more efficient than the old-style radiators that you are replacing. And as such, if your existing boiler had adequate capacity, then it should have enough capacity for the new, more efficient baseboard radiators.

However, here is a webpage that describes the issues with sizing a heating system: http://www.energysavers.gov/your_home/space_heating_cooling/index.cfm/mytopic=12340

As you will read, properly sizing a heating system will depend on factors such as:

o The local climate
o Size, shape, and orientation of the house
o Insulation levels
o Window area, location, and type
o Air infiltration rates
o The number and ages of occupants
o Occupant comfort preferences
o The types and efficiencies of lights and major home appliances (which give off heat).

And as the webpage discusses, it is best to have a local contractor (who is familiar with your specific region of the country and who can see your home's specific configuration) run the correct sizing calculations (not just us using estimates using "rules of thumb").

Hope this is helpful.
Home-Wizard.com