Garbage Disposal
Question Topic
Garbage Disposal Garbage Disposal Leaks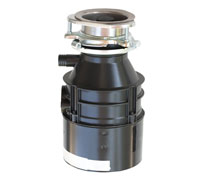 Home-Wizard™ calculates your ideal home care program to avoid problems with your Garbage Disposal, but sometimes trouble can still occur. Here are answers to questions about garbage disposal garbage disposal leaks.

QUESTION FROM Maj
insinkerator 1/3 hp drips(leaks) on the bottom from wire hole & other holes when water is running through the sink. it leaks much more when the garbage disposal is in use.The drain is fine & the garbage disposal work fine. any suggestion?
---

ANSWER FROM HOME-WIZARD
Dear Maj:

If your garbage disposal is leaking from the bottom through the motor, then the problem is likely that it is leaking through the flywheel seal and into the motor.

If you can, remove the garbage disposer from the drain system, disassemble the unit and replace the seal, or take the unit in for service.

Remember to DISCONNECT THE POWER before doing any work around your garbage disposal. And course never put your fingers inside the unit. Even when the unit is turned off, the blades can be very sharp.

Hope this is helpful.
Home-Wizard.com

FOLLOW-UP FROM Maj
Hello,

Thanks for your reply. is there any video in utube or some pictures as how to disassemble the
garbage disposal. or can you take it to any plumbing shop?

Thanks
---


QUESTION FROM lindadougherty
my garbage disposal is leaking into the diswasher making it smell awful and when the dishwasher drains I can see it come up in the disposal, how can I fix this?
---

ANSWER FROM HOME-WIZARD
Dear Lindadougherty:

It sounds like your plumbing has a clog in it downstream of your garbage disposal and your dishwasher. This could be why when you operate your dishwasher it backs up into your garbage disposal, and vice versa. If you haven't already tried it, you can try using a product like Drano to see if this will open the clog. Otherwise, you might try removing the trap in the drain pipe and remove any potential clog from in it. And if this still doesn't work, then you will need to have the plumbing snaked to remove the clog.

Hope this is helpful.
Home-Wizard.com