Radiators
Question Topic
Radiator Bleeding Air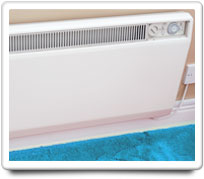 Home-Wizard™ calculates your ideal home care program to avoid problems with your Radiators, but sometimes trouble can still occur. Here are answers to questions about radiator bleeding air.

QUESTION FROM chris carolan nj
I keep getting air in my system. Its a 4 zone system and only the top floor 1 zone gets it. I do have another zone on the top floor, but that one is always fine. I bleed it and then a month later it gurgles and sounds like a faucet again, so I bleed it and its good for another month. What is happening to be allowing air in? Thanks
---

ANSWER FROM HOME-WIZARD
Dear chris carolan nj:

If you keep getting air in your hot water heating system, it sounds like you might likely have a small water leak somewhere in your system. You should check all of the bleeder valves on your system, as this is a common place for water leaks to occur. And you should also check all of the piping, valves and fittings around your boiler for signs of water leakage. Hopefully, there are no water leaks occurring in any of the piping anywhere inside of your walls, as this can cause major problems related to pests, etc.

Hope this is helpful.
Home-Wizard.com

QUESTION FROM lindielou39
If my pump speed is set too low it stops the noise but then my radiators wont heat up and my boiler sounds like its blowing bubbles, if i turn the pump speed up the rads will heat up but then the pump makes an awful revving sound?
---

ANSWER FROM HOME-WIZARD
Dear lindielou39:

It sounds like you may have air trapped in your system. Have you already tried bleeding the air from your system? If you haven't, be sure that your water make-up valve is working so that your system can re-fill with water when the air comes out.

Hope this is helpful.
Home-Wizard.com

FOLLOW-UP FROM lindielou
I have checked my system and all the radiators are full, however am finding now that my upstairs radiators are hot but my downstairs radiators are just lukewarm??
---

ANSWER FROM HOME-WIZARD
Dear lindielou:

If you are sure that you have bled all of the air out of your downstairs radiators, and you are not getting heat in only one zone of radiators, then here are a couple possible causes of why you are not getting heat in your downstairs radiators:

1) It could be possible that you have dedicated circulators for different heating zones in your home. If so, you should check to see if the circulator for your downstairs radiators has failed.

2) If not, you should check the zone valve that serves your downstairs radiators. The water pipe should be hot both upstream and downstream of this zone valve. If the valve is bad or stuck, it will be hot upstream of the valve, but then cool downstream of the valve. (Upstream refers to the piping that is in the direction of the boiler)

Hope this is helpful.
Home-Wizard.com